Statistical Process Control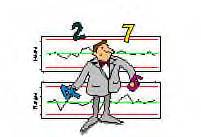 Click here for a detailed course outline
Stop the cycle of fire fighting and get "in control"!  This course will help you survive through solving problems and building prevention based systems.  The seven tools of SPC are taught in the context of a problem solving process not as independent statistical tools.
Workshop Topics
Problem Solving Methodology: Your survival guide to using the "right" tool at the "right" time
Basic Problem Solving Tools: Check sheets, Pareto analysis, flow charts, cause and effect analysis, scatter diagrams, histograms
Control Charts: Statistical basis or "Do they work and why?", X-Bar and R charts, X-Bar and Moving Range charts, p charts, np charts, c charts, u charts, zone control charts, sample sizes, rational subgrouping, control chart interpretation, response strategies
Process Capability: Capability analysis, Cp index, Cpk index, specification setting, gage capability or "Do my measurements really mean anything?"
SPC Implementation: "How do I sell others on SPC and get them to do it?"
About the Workshop
Mesa Consulting Group, Inc. takes pride in making statistical training fun and easy! Tools are taught with hands-on examples using a catapult, quincunx and bead bowl to simulate processes and generate data!